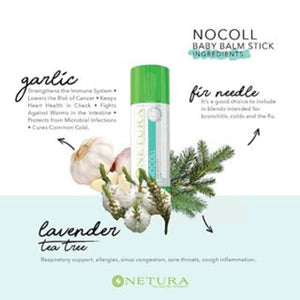 Nocoll Baby Balm Stick.

-Free from harmful chemicals.
-The main ingredient is essential oil that is safe for babies and children.
-Safe for babies & children from the age of 3 months up to 7 years old.
-Relieve gassy stomach and aid proper belch after meal.
-Safe for babies with asthma, epilepsy & G6PD.
Feature:
-In the form of balm stick cylinder container to make it easy to pull up and down.
-No more sticky fingers, more hygienic for children.
-Not easy to break & travel friendly.