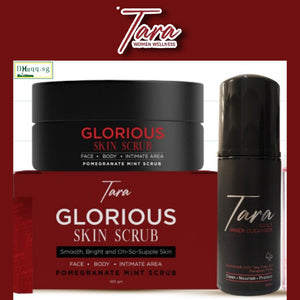 Tara Inner Cleanser
.
Feminine wash that protects, cleanses and whitens leaving your intimate area feeling healthy, fresh and cooling. Helps in reducing discharges that causes odours and itch.
Safe to use for pregnant and beastfeeding mothers
.
✅ Anti Bacterial 
- Tara inner cleanser protects and maintains a balanced Ph 4, ideal for woman's intimate area

✅ Prevents Bad Odour

Tara inner cleanser help to prevent odours and prevent vaginal itch due to infections. natural scent of rosemary gives optimal freshness all day long

✅ Softens and tightens
Tara Inner Cleanser helps to soften the surrounding intimate area and also helps to strengthen vagina wall

✅ Whitens
Tara Inner Cleanser whitens and increase regeneration of skin cells surronding intimate area
Tara Glorious Skin Scrub

Tara contains pH6 - an ingredient suitable for the face, body and intimate/delicate areas.

Benefits of Tara Glorious Skin Scrub

Face
- Softens and brightens the skin after one use
- Cleanses and exfoliates the skin from dirt, grime and dead cells that have settled or blocked the skin's pores


Body
- Removes dead skin cells and dirt on the body
- Brightens folded-skin areas such as the thighs, knees, elbows and armpits
- Removes cellulite consistently
- Minimises the appearance of stretch marks and helps them to fade more quickly

Intimate/Delicate Areas
- Brightens and softens the skin around your intimate area

How to Use:
- Slather the scrub on the desired area gently. Rinse thoroughly with water. Use 3 times a week for the body and feminine area and once per week for the face.